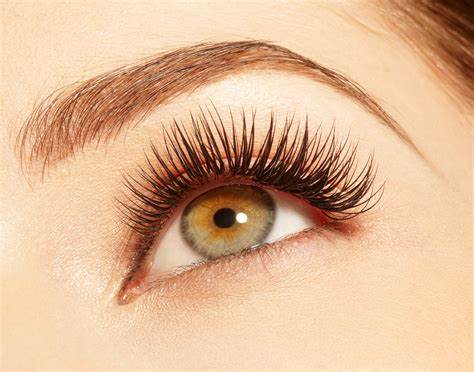 Lash Extension
Eyelash extensions are used to enhance the length, curliness, fullness, and thickness of natural eyelashes. The extensions may be made from several materials including mink, synthetic, or horse hair. The main method of applying the extensions is by using an adhesive glue to individually stick the extensions to the eyelash line. False eyelashes and eyelash extensions are not the same.
---
Eyebrow Threading
Threading is a method of hair removal originating in Iran, India and Central Asia. In more recent times it has gained popularity in Western countries, especially with a cosmetic application (particularly for removing/shaping eyebrows)
In threading, a thin (cotton or polyester) thread is doubled, then twisted. It is then rolled over areas of unwanted hair, plucking the hair at the follicle level. Unlike tweezing, where single hairs are pulled out one at a time, threading can remove short rows of hair.
Advantages cited for eyebrow threading, as opposed to eyebrow waxing, are that it provides more precise control in shaping eyebrows and is gentler on the skin.
There are a few different techniques for threading. These include the hand method, mouth method, and neck method. Each technique has advantages and disadvantages; however, the mouth holding method is the fastest and most precise.
Threading allows for a more defined and precise shape and can create a better definition for eyebrows. It is also used as a method of removing unwanted hair on the entire face and upper lip area.
---
Waxing
Waxing is hair removal from the root. New hair will not grow back in the previously waxed area for four to six weeks, although some people will start to see regrowth in only a week due to some of their hair being on a different human hair growth cycle. Almost any area of the body can be waxed, including eyebrows, face, pubic hair (called bikini waxing), legs, arms, back, abdomen, knuckles, and feet. There are many types of waxing suitable for removing unwanted hair.
---
Facial
A facial is essentially a multi-step skin treatment that is one of the best ways to take care of your skin. A facial cleanses, exfoliates, and nourishes the skin, promoting a clear, well-hydrated complexion and can help your skin look younger. You also receive advice on the best way to take care of your skin. A facial works best when it is part of an on-going program of skin care.
---
Lash & Brow Enhancement
Lash lift:
A lash lift curls your lash from base to tip so that you can see the full length. All lashes have a natural shape to them, so this process alters that shape via a tiny curling rod and a lifting solution. (It's not as scary as it sounds, as your eyes are closed as it's applied but yes, there are some chemicals involved.)
Brow Lamination:
Brow lamination is essentially a perm for your eyebrows, but without using the same harsh chemicals. "It's a treatment that not only stimulates growth while strengthening the brow hairs, but creates thick, fluffy, and full brows."
Stop using products with 'anti-aging' properties, such as retinol, glycolic acid, and alpha hydroxy acid at least 3 days ahead of your Bow Lamination appointment.
Brow Tint:
It's a process where semi-permanent dye is smoothed over your brows to shape and define your natural arches.
Eyelash Tint:
Eyelash is also the similar process where semi-permanent dye is applied on your lashes to look it more darker. So, you don't have to put mascara every day,
---